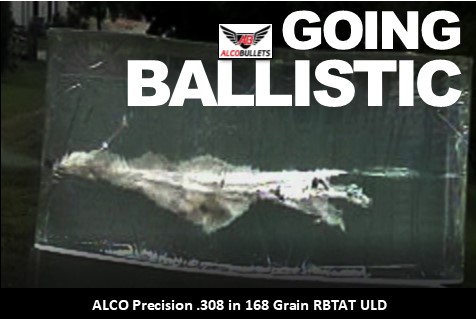 Going Ballistic in the Gel Alco Precision Bullets wanted to share a recent test we performed with our .308 caliber 168-grain projectiles on ballistic gel. As you probably know, "Ballistic gelatin is a testing medium scientifically correlated to swine muscle...
All About Bullets & Pellets –   Blog Posts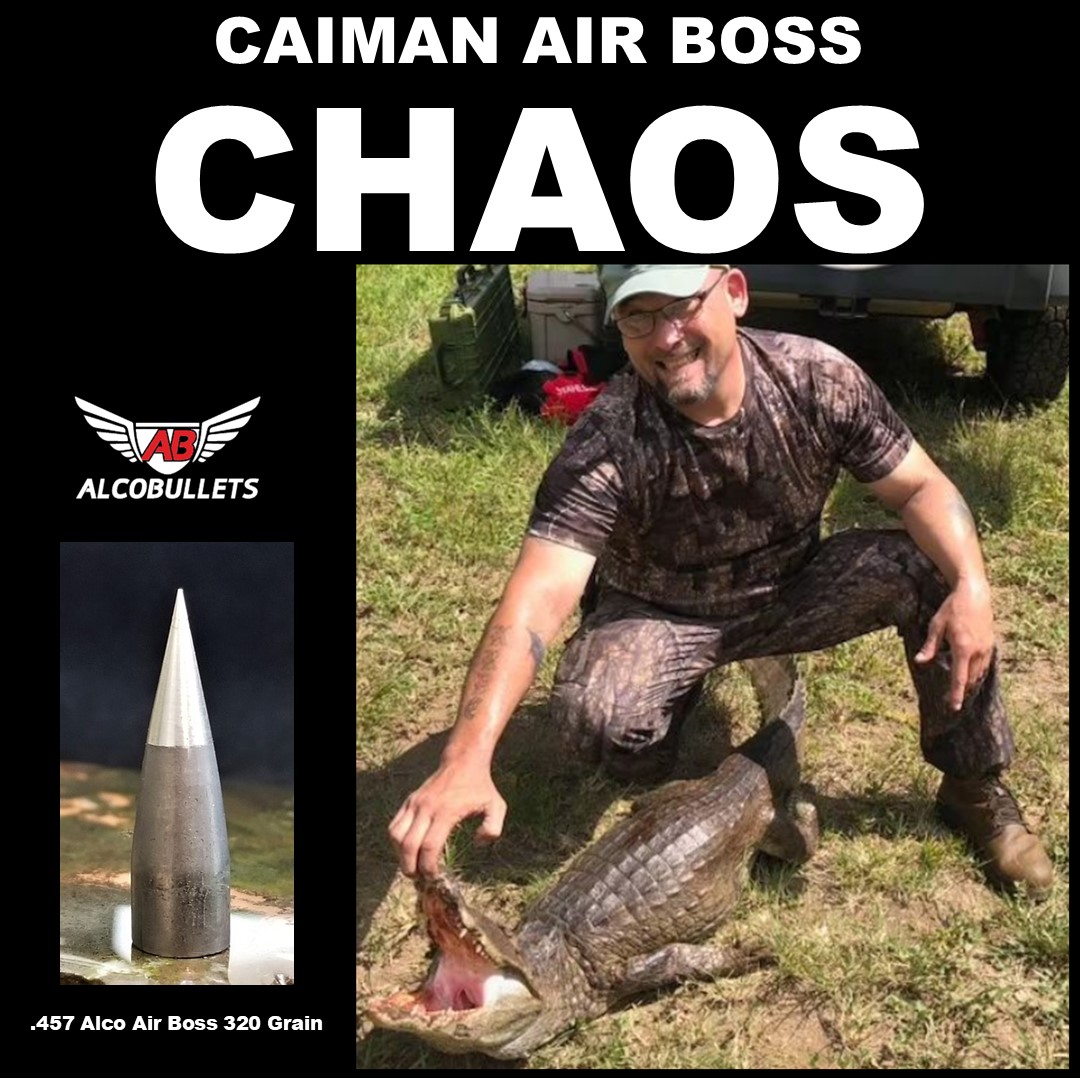 Alco Air Boss Chaos Alco .457 Big Bore Pellet Goes to Puerto Rico Alco Bullets received a surprise call about our .457 Air Boss pellets recently. The big bore slugs were designed for accuracy and hunting in North America. Not once did we think someone would find a...
Alco Bullets would like to thank Catfish radio host and author, Luke Clayton, for the nice article and interview with owner, Bill Shepek. Luke has a weekly radio broadcast in which he talks about hunting and fishing. Luke is also an Editor for Hammer Time Hobbyist...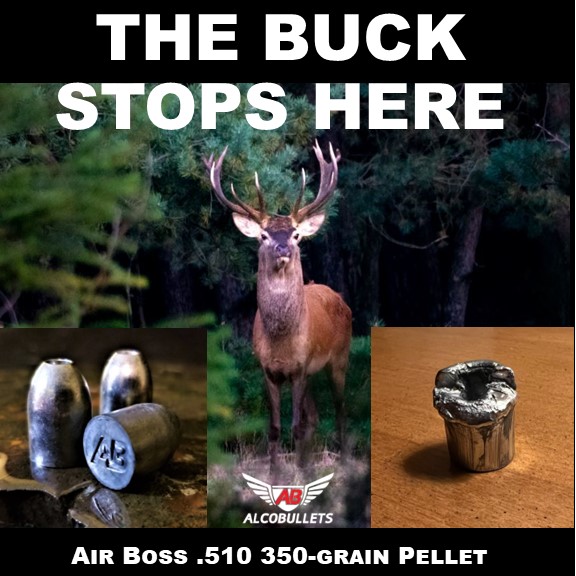 Alco Bullets would like to thank Eric Henderson/Adventures Afield for providing a video of his 2022 Missouri Deer hunt. He used our Alco Bullet Air Boss 350 grain big bore hollow point pellets with success. Missouri Deer Hunt The video was shot in Northern Missouri...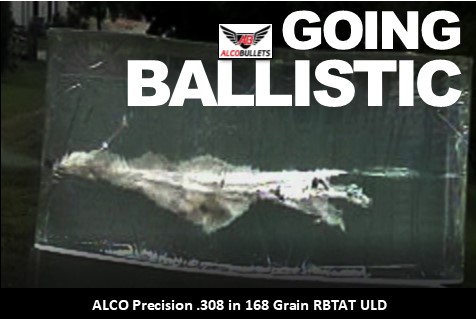 Going Ballistic in the Gel Alco Precision Bullets wanted to share a recent test we performed with our .308 caliber 168-grain projectiles on ballistic gel. As you probably know, "Ballistic gelatin is a testing medium scientifically correlated to swine muscle...
  ALCO Tactical and Practical Alco Bullets doesn't take a back seat in the hunting arena. These long distance precision bullets are not only designed for tactical shooting, they have proven field performance for hunters with their terminal ballistics. Below is...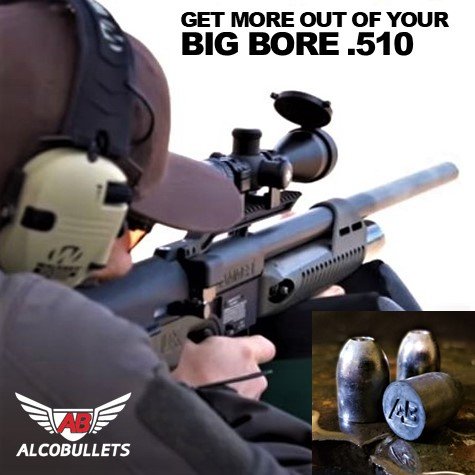 MORE BIG BORE Hunting has changed. We've come a long way from your boyhood BB gun. More and more hunters are starting to take note of big bore air rifles for shooting targets and now harvesting large game. We are no longer shooting an imperfect lead ball, but a well...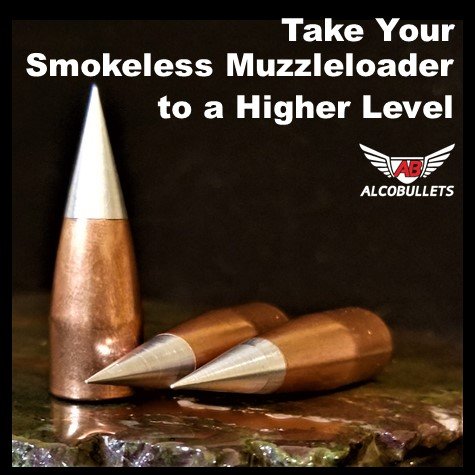 HARVEST TIME YES, it's getting to be that time of year again to harvest game and put away food for winter. One sure fire way to get more out of your hunting effort with your smokeless muzzy, is to use an Alco Precision .452 Smokeless Muzzleloader Bullet. Our handmade...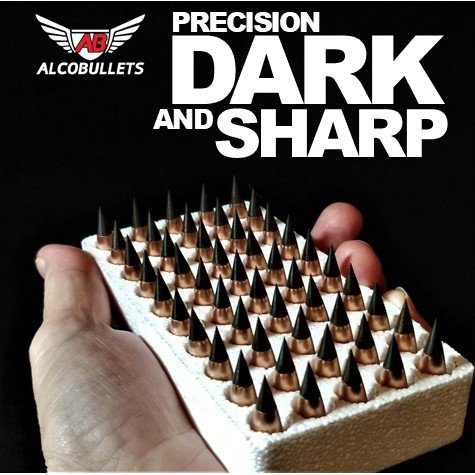 PRECISION DARK Off we go to the wild blue yonder. YES, we've made another change. We think it is important that our handmade high performance bullets not only be known for their accuracy; they should look good to the beholder. We've been getting great calls lately...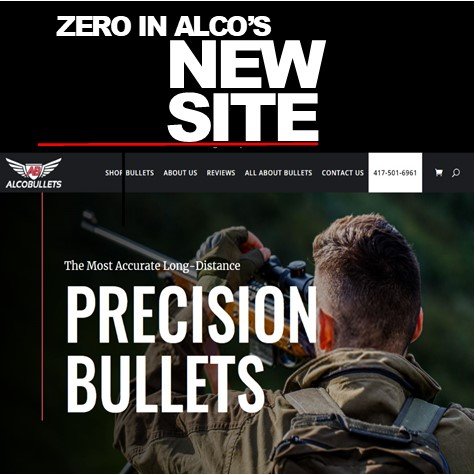 WE ARE LIVE! YES – alcobullets.com new website has launched! As precision bullet smiths, we feel we should be able to provide a premium online experience for you to find what you want in a high performance Alco bullet. We specialize in handmade, custom engineered...
Joshua C. was kind enough to send us this video he took while deer hunting in Lewiston, UT – God's country. Lewiston is situated at the northern Utah border by Idaho. Joshua says, "I can literally take...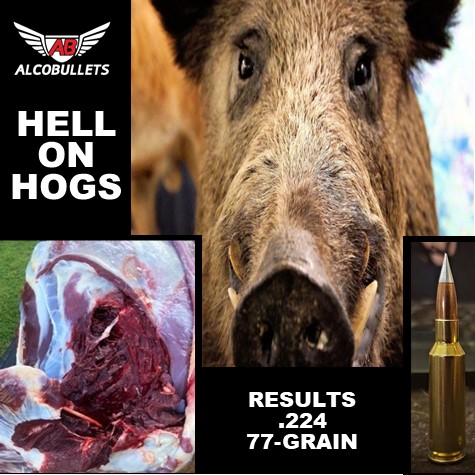 Bringing in the BaconAlco .224 precision bullets are hell on hogs. We have customers who are reporting that our Alco's will not only accurately shoot 1000 yard targets; they pack a devastating punch and will stop game in their tracks - especially swine. The...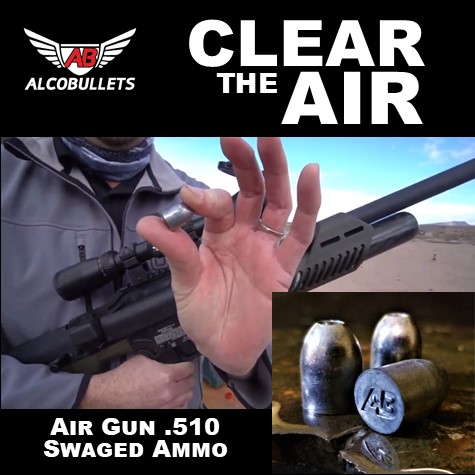 Out of the Clear Blue AirWith a call from out of the blue, Umarex USA and Alco started working together to provide air gun bullets that are swaged ammo in 50 caliber (.510 rifles) to give hunters an advantage in the field. Built initially for the new Umarex Hammer 50...
Alco Bullets definitely has some innovative big boomers on the horizon that will be worth your wait. We have many new custom crafted calibers that are underway. We are always looking to perfect our projectiles and provide more to our friends. Shown here is the start...
New Precision Bullet Development Engineering - tadpole stage The beginning stage of an Alco handmade bullet starts small. In the first few steps of the build, they are almost unrecognizable – we call them tadpoles. It is a slow process to introduce a new custom...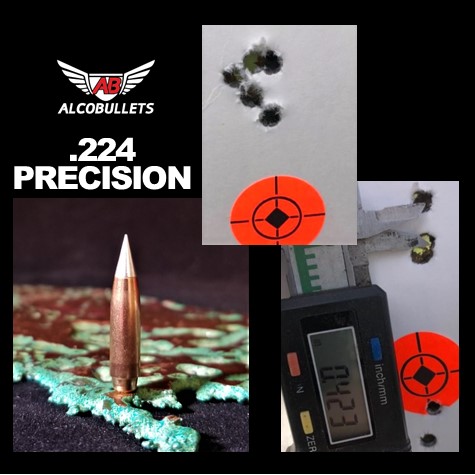 Get your 22 Creedmoor and Valyrie's ready for one sweet bullet. These precision high-BC projectiles come in 69-, 77- and 90-grain and pack lots of punch down range with tight groups to make your day. The above targets were shot by a customer in Oklahoma using both 22...
Our Precision .452 smokeless muzzleloader bullets begin with a flat 100 % copper coin. The jackets are made by taking several pulls through a press, only to be trimmed to specific lengths for extreme accuracy. The photo shows our 325-grain Alpha Hunters getting ready...
All of Alco Bullets are handmade for precision accuracy and designed for marksmen who what a superior projectile. We do custom make our .308 and .224 calibers in a flat base (no rebated boat tail) for those who request them. They are not something we have in stock,...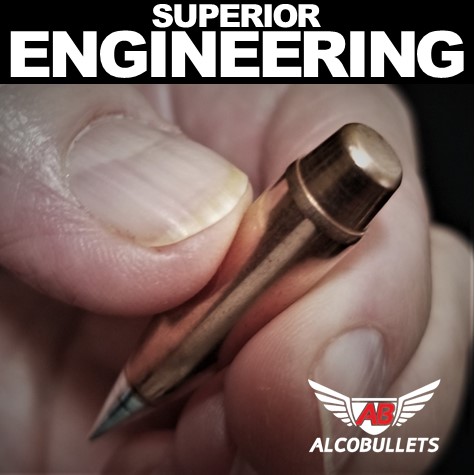 ALCO Engineered Excellence We are proud of our handcrafted projectiles and their unique engineering. Many elements go into a well-designed bullet. Aerodynamics are everything. Our handmade precision bullets take longer to manufacture because we add a Rebated Boattail...
Comments we love to hear - Recently, Paul Y. in Pennsylvania sent us a message saying, "I shot your bullets today and they are fantastic. I shot them next to Bergers, Hornady and Sierra and beside shooting better, they shot 1in. high as all other brands were low. Your...
The photo shows us packaging handcrafted Alco Precision .308s in 220 grain for some great customers. We can't begin to thank the people who deliver our packages enough during these times. This year postage rates have gone up significantly. Delivery to rural states and...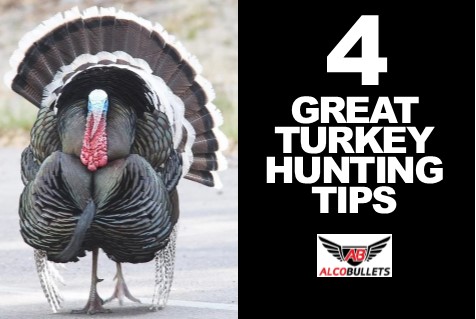 If you are a turkey hunter that chases that tricky elusive bird, we want to share a nice article with tips and tricks that will help you get one for yourself when you go out next time. 4 Turkey Hunting Tactics That Work When Nothing Else WillSometimes turkey hunting...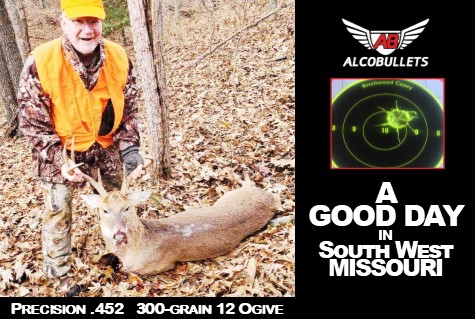 Practice Makes Perfect Alco Bullets always promotes hunting safety and a big part of that is to practice on your targets before you go. Not only does that help you with your accuracy, but familiarizes you with your rifle. The .452 smokeless muzzleloaders pack a big...
Way to Go Ryan Alco Bullets would like to congratulate Ryan S. for winning a box of our .452 Alpha Hunters in 325-grain for the Smokeless Muzzleloader giveaway in reaching the goal of four thousand members earlier this month. Way to go on reaching 4K members – it is a...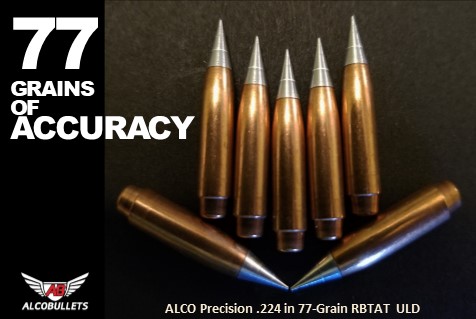 Get the 77 Accuracy Edge Alco Bullets is adding to our .224 lineup with another grain weight – Precision .224 in 77-grain RBTAT ULD. Like the .224 69-grain we offered earlier last week, they are technologically advanced with an engineered Rebated Boat Tail and are an...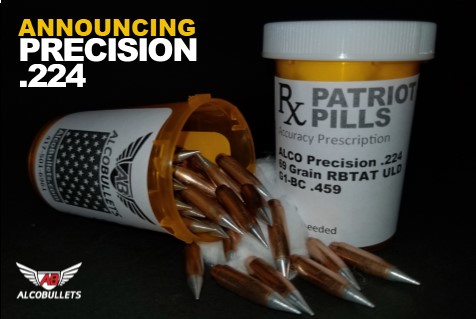 Countrymen, Make Ready! Today, we are excited to announce that Alco Long Range Bullets is introducing a new line of Patriot Pills - Precision .224 in 69-Grain Rebated Boat Tail Aluminum Tip Ultra Low Drag (RBTAT ULD). Not only do we have a new bullet caliber in .224,...
Steel Precision On Target ALCO Precision .308 220-grain Rebated Boat Tail Steel Tip bullet is Ultra Low Drag and part of our Next Generation line up for long range completive and target shooters. This extremely accurate heavy grain projectile is engineered to have a...
Consistent Precision Alco Bullets has the Precision .308 185-Grain RBTST ULD projectiles available for our long-distance shooters. The custom bullets feature the rebated boat tail and are ultra-low drag designed for extreme accuracy. They have the tightest tolerances...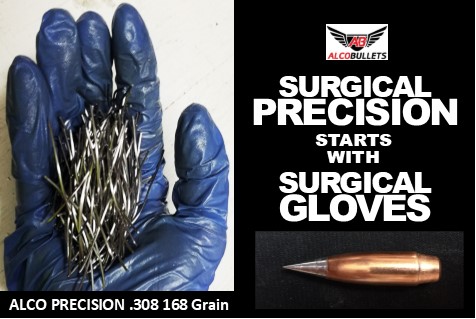 Surgical ALCO PrecisionThe phrase "surgical precision" is often attributed in situations where care, knowledge, technical capability and judgment are vital for success. ALCO Bullets uses a seven-step hand process to insure you receive the most accurate...
Calling in Big Game with ALCO Alpha HunterHunting season is around the corner. ALCO Bullets is adding more inventory for our Precision .452 Alpha Hunter 325 grain bullets for you to call in the big trophy this season. These bullets have a G1-BC of .522 and feature our...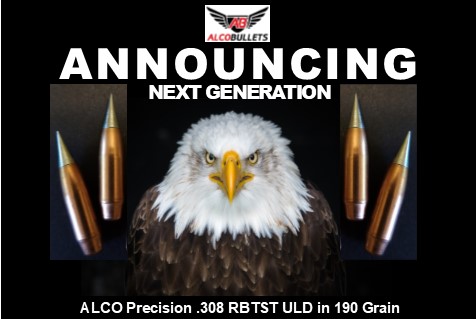 ANNOUNCINGNEW Release - Next Generation Precision .308 RBTST ULD projectile in 190 grains ALCO Bullets is excited to introduce the Precision .308 RBTST ULD projectile in 190 grains. This is one we are adding to our Next Generation line up of products that feature a...
Accuracy DrivenGet hands on accuracy with ALCO Bullets Precision .308 RBTAT ULD in 155 grains. This round is an excellent choice with gas guns for both hunting and competitive shooting applications. This has been a top performer for us for many years our customers...
Long on AccuracyALCO Bullets has a variety of Precision Rebated Boat Tail Ultra Long-Distance bullets that can be used in multiple 30 caliber applications. Our projectiles will work for the largest magnums to 300 blackout. The photo shows the range of our offerings...
Pushing the EdgeRecently, ALCO Bullets received a range report about our Precision .308 RBTST ULD projectiles in 220 grain from Marc in North Carolina that we are sharing. We appreciate his kind words and data. Marc said, "I took your 220 steel tips and loaded them up...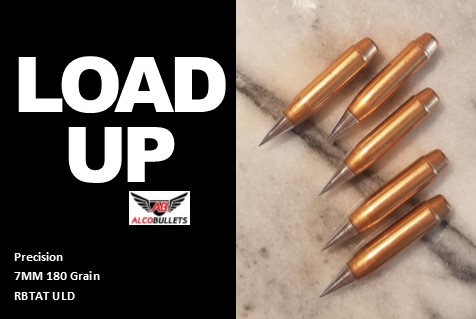 Get a load of this!ALCO Bullets is obsessed with accuracy. The 7MM RBTAT ULD high-performance projectile in 180 grain is designed to go down range with precision. This highly efficient bullet features the ALCO rebated boat tail allowing it to have less drag and hold...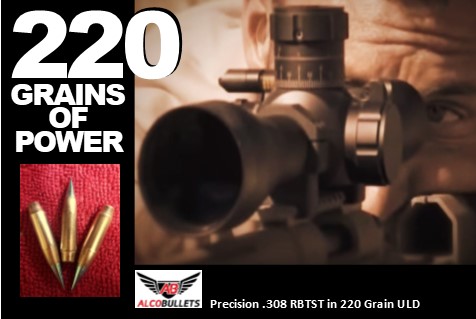 Powerful High-Performance ALCO Bullets constantly works to perfect our techniques to provide great bullets for long range shooters. ALCO's Precision .308 in 220 grain is one that has been a stellar performer for magnum 30 caliber rifles. The recommended barrel twist...
Bucking the Wind in West Texas ALCO Bullets would like to thank Cody Foster for sending in this target from Texas recently. He put five ALCO 220 Grain RBTST ULD bullets in one hole at 100 yards with his 30 Nosler. He said, "This is the best performance out of my...
ALCO Bullets has developed a Precision .452 bullet in 300 grain that is an excellent performer for a 45-caliber cartridge gun as well as a Smokeless Muzzle loader rifle. This projectile has a machined metallic tip that allows it to have a bit shorter overall length...
ALCO Bullets is all about precision. One reason our bullets perform so well is in the care we take to produce quality metallic ballistic tips. The picture below shows just a few of the sharp points we use on the heads of our bullets – from the bigger 452 caliber down...
Count Yourself Lucky It's not just luck that makes ALCO Bullets special, it's dedication and good old-fashioned hard work on our part to deliver high performance projectiles. We would like for you to take a look at our .308 175 grain RBTAT ULD bullet shown here. This...
Load up real precision with handcrafted Alco .284 Rebated Boat Tail long-distance bullets. Engineered for extreme accuracy in the field, they will stick it in the wind like a javelin. These high BC projectiles are available in 195-, 180- and 168-grain.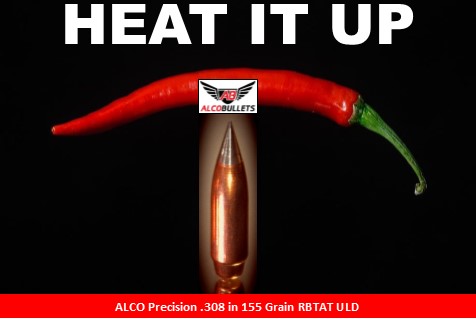 ALCO 155-grain .308 Hot ShotsThe whole country seems cold and it's time to heat it up. ALCO Bullets is celebrating National Chili Day with our Precision .308 155-grain RBTAT ULD hot shots. To warm up for the holiday, make yourself a bowl of your favorite chili and...
Cutting Edge in Air Gun World Right now, the 2019 Shot Show is on in Las Vegas. ALCO Bullets has teamed up with Umarex USA to develop new bullets for their exciting 50-caliber air rifle called "The Hammer." Powerful enough to kill a cape buffalo in South Africa, this...
Ten in One! The target here shows 10 rounds through the same hole! ALCO Bullets would like to thank Nik Woods for providing photos of targets that he shot using our Precision Smokeless Muzzle Loader 300 Grain and Alpha Hunter 325 Grain ULD projectiles. Here is what...
EXTREME DUTY! - Huber 2-Stage Trigger for Remington 700 - Rex ReviewsTiborasaurusRex, Published May 15, 2014 https://www.youtube.com/watch?v=GrwWy3sHZvA "These custom tuned Huber triggers are truly "tier-1" units and are not comparable to other aftermarket triggers....
ALCO Bullets wanted to share a brief video on how it to get the best performance out of a cartridge with high Ballistic Coefficient (BC) Ultra Low Drag (ULD) bullets for long range shooting. The video provides easy to follow tips on how to load your cartridges so the...
People have been asking us for a little bigger grain smokeless muzzle loader with a thinner jacket and here it is! We are proud to announce the new Alco Bullets 325 ALPHA HUNTER .452 smokeless muzzle loader precision bullet. The 325 ALPHA HUNTERs are designed with a...
Great .472 Five Shot Group!ALCO wants to thank Kevin for sharing his target results. He put five ALCO 168 grain .308s shots in one hole - the size of a dime. He used a 308 Winchester. His loads are indicated on the side of the target.
Tiborasaurus Rex does a comparative analysis of various 168 grain .308 caliber bullets to determine the best choice for long distance shooter applications. This discussion shows a review of manufacturers out to 1,500 meters with ultra-low drag match style bullets. The...
Welcome to our online store! Our team is proud to announce that we're now open for business, and we look forward to serving you all in the future. If you have any questions about this store or the products found within, please don't hesitate to contact us any time....