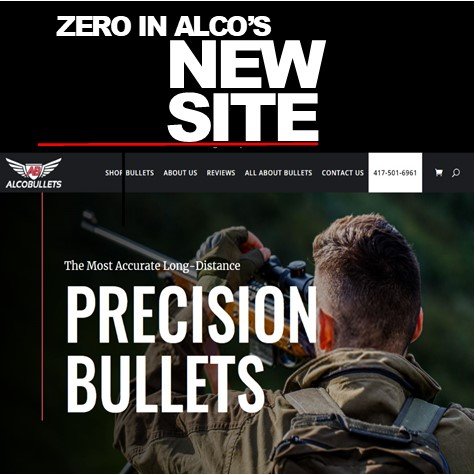 WE ARE LIVE!


YES – alcobullets.com new website has launched! As precision bullet smiths, we feel we should be able to provide a premium online experience for you to find what you want in a high performance Alco bullet. We specialize in handmade, custom engineered bullets for long-distance shooters, hand loaders, marksmen and hunters that are designed to give you an edge in the field. Now you can have an online advantage with us too! We are always trying to improve the Alco customer experience – thus the new website. Our goal in is to provide an easier way for you to find out more about our products for your shooting needs.
SHOP BULLETS
To order a bullet, simply go to the Shop Bullets Drop Down to easily to find Precision bullets the caliber and weights you need in .223, .284, .308 and .452 smokeless muzzleloader. Check out our new Air Rifle Big Bore .510 swaged bullets here too. Just go to the caliber and click on the bullet you want to shoot to select and ship. We produce custom orders to meet our customer needs, including flat base in the .308 and .224 calibers. And, if you can't find it or need more than what we show available, call us and we will get on it for you. You will be talking to a Bullet smith who will help you with any questions or order. It's easy – just call 417-501-6961.
ABOUT US
You can quickly read an overview about how our precision long-distance bullets are constructed with the highest quality materials all made in the USA. From the machined tip to the rebated boattail, you can see that we hold ourselves up to very high standards for precision performance with accuracy you can count on downrange.
REVIEWS – T Rex and More
One way to learn more about our products is to click on the 'Reviews' button at the top of the page, you can dive into Long Range Bullet Competitive Analysis YouTube series of videos that were produced and recorded by Tiborasaurus Rex a well known long distance shooter from a few years ago. He compares our Alco Bullets to 5 different popular bullet brands (Hornady, Sierra, Speer, Nosler, and Berger). All things are equal; in that the bullets weighed from 162- to 168-grain, were shot at 3000 fps as a constant to compare the relationship in ballistic coefficient terms with regards to drop in MOA, maintaining velocity, trajectory, hold in the wind out to 1500 meters. We stacked up well to these brands and are very grateful to Rex for his kind words. Other reviews from customers are listed on the page as well.
ALL ABOUT BULLETS
The 'All About Bullets' link will dive into specific bullet information about our custom handmade processes and the different bullet calibers and weights we offer. You can find why we add a rebated boattail to our bullets and why they shoot so well with long distance trajectories with such high ballistic coefficients. You can see why we use custom CNC machined tips with perfect meplats and why we check and measure everything throughout the seven step process – It's all about precision, quality and dedication.
MORE TO COME
Alco is constantly introducing new calibers and bullets. We have some exciting things coming with regards to the air rifle community too. Watch for announcements on our site as well as our Instagram and Facebook pages. As always, when you call us, you will be talking directly to an actual bullet smith to address your needs, not the receptionist – 417-501-6961 – stay well and be safe out there.