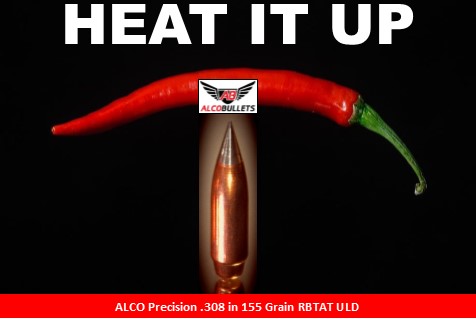 ALCO 155-grain .308 Hot Shots
The whole country seems cold and it's time to heat it up. ALCO Bullets is celebrating National Chili Day with our Precision .308 155-grain RBTAT ULD hot shots. To warm up for the holiday, make yourself a bowl of your favorite chili and order up the 155-grain to heat up your gun too!
National Chili Day Feast with ALCO TEXAS RED
The ALCO family makes quite a bit of chili when we are cold. Today, we seem to have ice everywhere in Springfield, MO. Since it is National Chili day, we are having a little Texas Red to go along with our bullet making for supper tonight. We wanted to share our basic recipe with our friends. Depending on who in our family makes this, it can get quite spicy.
Brown in 3 table spoons of oil:
5 pounds combination of ½ hamburger and ½ ground pork (use some of that deer if you have it!)
10 + cloves of garlic
2 + large onions
Mix in and cook a few hours on top of stove
3 chipotles in adobo sauce
½ cup chili powder
4 Tablespoons cumin power
1 Tablespoon dried oregano
½ teaspoon salt
2 jalapeno Chilies, minced
4 cans crushed tomatoes
4 cups chicken stock
Final Seasoning: Mix ¼ cup masa harina (Mexican Corn Flour) with 1 tsp chili powder and ½ cup water in a small bowl until consistency a thick cream; add more water if it needs it. Stir in the masa harina mix with everything. Bring to a simmer over medium heat to thicken. Stir in the juice of 2 limes, and season to taste with salt and pepper. Note: You can back that off some of the heat with a few tablespoons of brown sugar or add in a little sour cream when you serve. Enjoy!