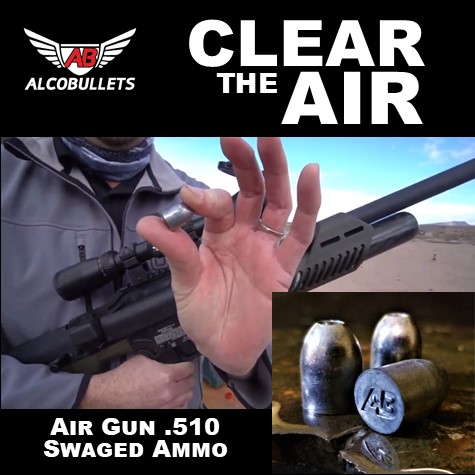 Out of the Clear Blue Air
With a call from out of the blue, Umarex USA and Alco started working together to provide air gun bullets that are swaged ammo in 50 caliber (.510 rifles) to give hunters an advantage in the field. Built initially for the new Umarex Hammer 50 Caliber Air Gun, these great projectiles are also used in the AirForce Texan and other big bore pre-charged pneumatics (PCP) air rifles too. They have been extensively tested for accuracy and are ready to go for your air gunning success. We now are offering the .510 in 350-grain weight directly. We will have other grain weights ready soon.
Getting the Radar on Track
Honestly, the air gun world was off the Alco Bullet radar until a few years ago when we received what started as a simple phone call from the VP of Marketing at Umarex asking if we could make bullet for them. Not just any precision bullet, but a hand swaged lead 50 caliber projectile for their new Hammer 50 Caliber Air Gun that was in development. It definitely caught our interest. Since we were already swaging cores for our precision copper jacketed long-distance bullets, it seemed like a fit. We talked more among ourselves, met with the Umerax team to determine their needs and decided to give it a go. We literally jumped in full blast.
Up to the PCP Task
Making a precision swaged bullet wasn't an easy task. This was a whole new ballgame for us. Going from precision projectile that is packed in a cartridge with powder, to one that is fired with gas is quite a bit different. The engineering for this isn't what it seems. It was a slow process. We made several prototypes. Thousands of bullets were tested and along with the Umarex quality assurance department, we came up with some projectiles that were a serious solution for them in both 350- and 275-grain. These bullets produce results that will make your day.
Shooting Forward
Alco Bullets isn't backing away from the air gun market anytime soon. We are custom bullet smiths and constantly making improvements to our projectiles as well as offering new calibers. We are underway with much more that will rock the air gun bullet world with even more precision accuracy. Stay tuned.