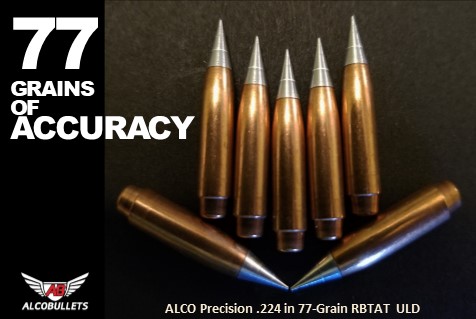 Get the 77 Accuracy Edge
Alco Bullets is adding to our .224 lineup with another grain weight – Precision .224 in 77-grain RBTAT ULD. Like the .224 69-grain we offered earlier last week, they are technologically advanced with an engineered Rebated Boat Tail and are an Ultra-Low Drag style projectile. Our .224's feature a sweet new CNC machined aluminum tip with a serious meplat that provides you with very high ballistic coefficients. All of this is just part of what makes these pills so accurate and gives you an edge in the field. They will hold trajectory in the wind for long range shooting and give you confidence nail your target. Alco bullets are each hand crafted and weighed for consistency. They are not production made on big machines. This is what allows us to hold them in tight tolerances with regards to ogive, length, and diameter. You won't be disappointed.
We will be adding a 90-grain to our .224 lineup soon. Please Like and follow our Facebook/Alco 1945 to watch for upcoming promotions/calibers.